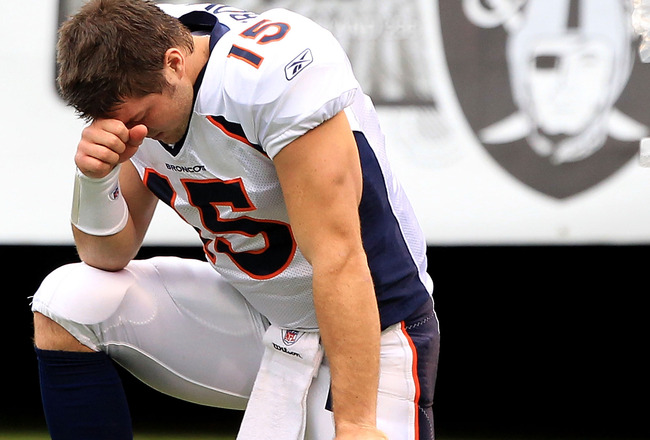 If by "Tebowing," you mean
just barely beating crappy teams,
then yes, he is "Tebowing."
Denver, CO
23 November 2011
Love him or hate him, Tim Tebow is good business for the NFL. Despite abysmal numbers, he's amassed an unlikely 4-1 record as Denver's starting QB. His late-game wins have ignited talk radio and TV, driving ratings through the roof. Most of all, he's given us a barrel of lol's with viral 'kneel and pray' photos affectionately called, "Tebowing."
NFL Commissioner Roger Goodell, seeing the river of cash flowing from Tebow, has enacted what is being called the "Tebow Rule." Approved despite dissent among NFL owners, the Tebow Rule states henceforth, the Denver Broncos are only allowed to play crappy teams.
"He beats Miami and Kansas City and people go nuts," Goodell says, head shaking. "I don't pretend to understand it, but since Tebow's success generates revenue, we've tweaked Denver's schedule."
This means the Broncos' Nov 13th game against pitiful Minnesota has been moved to 1:00 PM to boost viewership. The following week, the NFL has removed rough-and-tumble Chicago from Denver's schedule and instead has them playing the 0-10 Colts. The same goes for the following week; instead of New England, Denver will again play the (we're assuming) 0-11 Colts.
Denver will then close their season with games against the University of Maryland, the 1976 Tampa Bay Buccaneers and, ironically, the Tecmo Bowl Denver Broncos.
"It should work well if everything goes to plan," Goodell says with a grin. "Although I still think Tecmo Denver's Pass 2 could give Denver some problems."